Pray for Teachers, Students & Parents
As you organize, prep, and purchase for the new school nothing you do is more important than adding a covering of prayer. For many praying for their children and grandchildren is second nature, but praying for teachers and friends is equally important. As is praying for God-given wisdom for ourselves as we guide our kiddos through the educational obstacle course.
10 Blessings to Pray for Teachers, Students, and Parents.
These are things which apply whether your family home-schools or your children attend private or public schools. Blessings that are important for all ages and positions.
Pray for the Blessing of:
1. Friendship - Relationships are a big part of school. Pray that teachers will have a supportive and encouraging group of friends. That your children will make friends who make good choices and encourage them to be themselves. And that you will make friendships with some of the parents of your children's friends who value relationships over comparisons.
Those with wild friends bring shame to their parents. Proverbs 28:7
2. Work - School is a job, and not just for teachers. Pray that a healthy importance will be placed on using gifts and abilities to glorify God by working hard and doing their best.
Work willingly at whatever you do, as though you were working for the Lord rather than for people. Colossians 3:23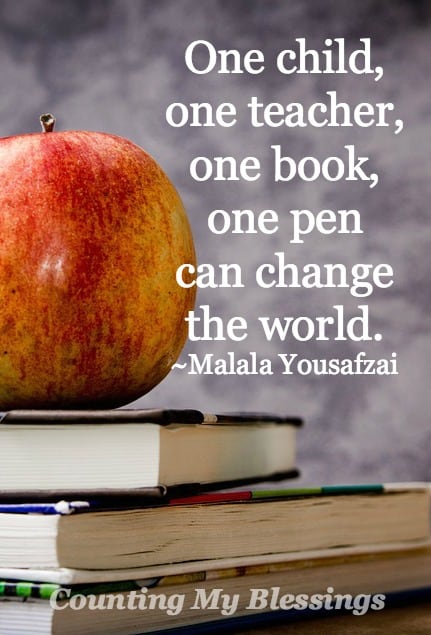 3. Gratitude - Education is a gift. In much of the world, illiteracy is all too common. Pray to help your children appreciate the gift of school and learning.
Whatever you do or say, do it as a representative of the Lord Jesus, giving thanks through Him to God the Father. Colossians 3:17
4. Balance - Work, play, rest, and diet . . . balance is important. Pray to set a good example of the value of eating healthy, getting adequate rest, playing with joy and enthusiasm, and working well.
For everything there is a season, a time for every activity under heaven. Ecclesiastes 3:1
5. Faith - Learning, maturing, and growing are part of life. Pray that your child and your family will be blessed to grow in your love for God through faith in Jesus.
Let your roots grow down into Him, and let your lives be built on Him. Then your faith will grow strong in the truth you were taught, and you will overflow with thankfulness. Colossians 2:7
6. Respect - Words and actions are influenced by respect. Pray, your children will have mentors who will respect others. How we talk about managers, teachers, coaches, etc. in the privacy of our homes influences how our children will treat those in authority in public.
For the Lord's sake, respect all human authority. 1 Peter 2:13
7. Self-Control - Emotions are important, learning to control emotions is more important. Pray that you and the adults who influence your child will be able to control emotions like anger, frustration, and infatuation.
Better to be patient than powerful; better to have self-control than to conquer a city. Proverbs 16:32
8. Community - Many people are involved in the process of growing up a child. Pray that God will bless and protect your community and that many of your neighbors and friends will affirm the important values that you are teaching in your home.
You can develop a healthy, robust community that lives right with God and enjoy its results only if you do the hard work of getting along with each other, treating each other with dignity and honor. James 3:18
9. Health - A healthy body, mind, and spirit does well. Pray for the blessing of all aspects of health and for the wisdom to do the things that help . . . diet, exercise, good relationships, faith, and hope.
Don't be impressed with your own wisdom. Instead, fear the Lord and turn away from evil. Then you will have healing for your body and strength for your bones. Proverbs 3:7-8
10. Truth - Commit to honesty in everything. Pray for truth in every aspect of your family's life . . . truth taught, shared, and lived.
The Lord detests lying lips, but he delights in those who tell the truth. Proverbs 12:22
Praying God will guide and bless you as you surrender your hopes and dreams for the year ahead to Him.